We all know that Plants purify the air and improves the mood and health, thus, nowadays people place plants at home to stay connected with the environment. Precisely, Indoor plants positively influence the emotional well being of people, specially, in these times of pandemic. In addition, the natural decoration makes the home more welcoming and lively.   We at Dzylo wants to provide you the information to design your home in such a way that gives mental peace and good health, and fill you with positivity.    Here are some indoor that can be placed in home for better environment and heath.
#1: Money Plant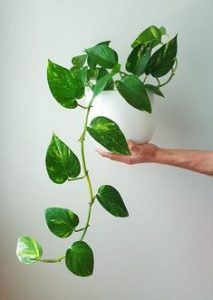 It is originally called Crassula Ovata, its name means "thick", alluding to its fleshy leaves. Although it grows slowly, this plant lives long and there are more than 1,400 varieties. In Chinese culture, it symbolises good luck and economic abundance. This plant should not receive direct sunlight, as it is an indoor plant low light. Then, make sure it is in a brightly lit room such as the living room or bedroom to attract all the positive energy. Use decorative ceramic pots for indoor plants to make the Crassula Ovata stand out as accents.
#2: Pachira Aquatica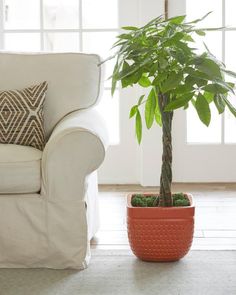 The Pachira Aquatica is the plant of luck, and it attracts money and abundance. If you are looking to add a touch of freshness to your home as well as a natural ambience to an empty space, the Pachira Aquatica is an excellent choice when searching for the best pots for indoor plants to level it up. The plant's leaves are compared to, which grow in groups of five and represent the five elements: water, fire, wood, metal and earth. The Chinese philosophy points out that when the elements are together, positive energy, fortune and health will be attracted. The best place to place it in your home is the living room or dining room, as it will stimulate prosperity. Although it can also be placed in the main room. It is a perfect and charming indoor plant low light.
#3: Lucky Bamboo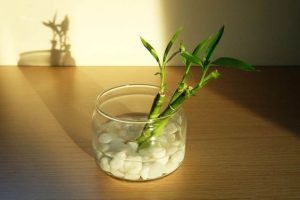 If you want to bring health, love and positive energy, go for a lucky bamboo. Bamboo is a houseplant you must have at home. This plant has been used for thousands of years in Asia as a symbol of good luck and prosperity. The vertical shape of this tall, green plant represents the wood element of the universe. This element influences our life energy, vitality and physical activity. Place it in a corner of a room that has dim lighting and away from direct sunlight, preferably in the corner facing east or southeast. For this special plant, you can search for glass pots for indoor plants.
#4: Peace Lily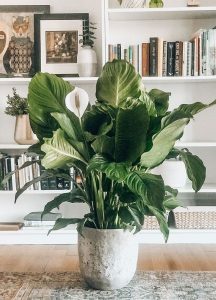 Peace lily promises spiritual, mental and physical prosperity. It neutralises toxic and noxious gases indoors. This plant grows best in dark, shady environments so is one of the greatest indoor plants low light. You can put it in a corner of your home but remember to water it frequently as it is important to take care of indoor plants even if they are resistant. Placing this plant in your bedroom will give you a sense of tranquillity and restful sleep. There are creative pots for indoor plants that will accentuate the natural beauty of this indoor plant.
#5: Crape Jasmine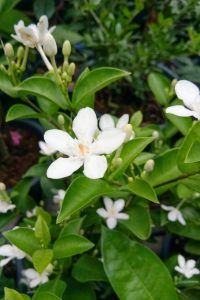 Crape Jasmine is a plant that combines a little bit of everything. In addition to its elegance and wonderful scent. It is a beautiful flower to admire. It is best to place jasmine plants in a well-ventilated area. Jasmine loves to grow outdoors, although its lighting requirements make it perfect as an indoor plant low light.
#6: Peperomia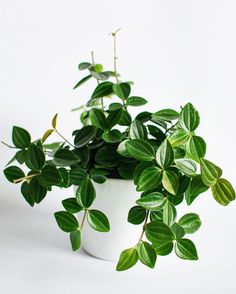 Plants in the genus Peperomia are evergreen. They are known because they are ideal for decorating interiors, thanks to their small size, which usually does not exceed 20 centimetres. The ideal is to have it in a well-lit room, where it does not get direct sunlight. Do not hide it in the shade or it will have a hard time growing. Regarding watering, it needs very little water, especially in winter. Also, it is a very resistant plant so no need to fuss over it!
#7: Aralia Dwarf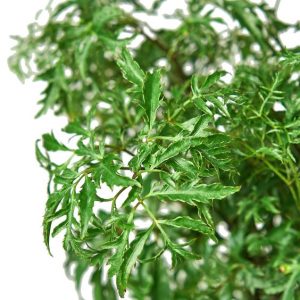 It tolerates low light exposures, but it will always grow more lush and dense in the presence of direct light. The sun can damage its green leaves, so it can be grown outdoors as long as we do it in the shade. The Aralia Dwarf will bring a unique natural touch to your home; its shape and colour will brighten the space. Remember to search for the best pots for indoor plants to complement the decoration. Indoor plants low light as home decor will perfectly complement your rooms. Not to forget, they are a healthy choice emotionally and physically, because seeing green at home relaxes, encourages and improves our health. Let's come together and give our efforts to create a healthy environment in home. Thank you for considering Dzylo, we are more than happy to help and we hope that this is just the start of a long, fulfilling business relationship!